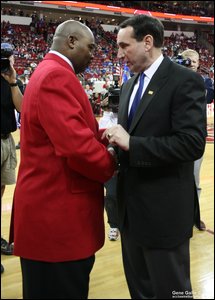 NC STATE WOLFPACK vs #2 DUKE BLUE DEVILS
***UPDATE: A person on the staff has informed us that the game will go on unless weather worsens, which is not expected.
GAME TIME
- 8pm
LOCATION
- Durham, NC
TELEVISION
- Raycom, ESPN Full Court
Improbability seems to be the theme today. Today we are swearing in our first African-American President, a president many said would never have a chance to be in the running, let alone be elected. If you live in the Triangle, you went to bed with Greg Fischel telling you that this storm was breaking down and would be nothing more than a dusting of snow. You woke up with 2 inches of snow covering the ground, and schools and businesses closed. It was improbable, but it happened. Tonight NC State looks to add to the list of improbables as they attempt to take down #2 Duke in Durham, and while nobody is giving them a chance... they believe it can be done.
The Pack faces the #2 Blue Devils tonight at 8pm at Cameron Indoor, a place they haven't been very successful at as of late. In fact, the Pack hasn't won in Cameron since the 94-95 season. But this Wolfpack team is starting to believe, and with the emotional win against Georgia Tech on Saturday, the team feels as if they've got a shot in Durham and are looking to start their first ACC winning streak since last February.
The key to the game against Duke is, you guessed it, taking care of the basketball. The Wolfpack have had the turnover blues all season, and it's not going to get any easier against Duke, a team that forces an average of 17 turnovers per game by applying intense back court pressure, staying in the passing lanes, and switching on almost every screen. Coach Lowe has stressed this in practice, showing the team what Duke wants to do and how to attack their pressure defense by exploiting mismatches and making the extra pass to get an open look.
To stop Duke you need to stop their motor, Gerald Henderson. While Henderson is not a great scorer, he is a dynamic athlete and can shift momentum with one high flying dunk or one soul stealing block. State needs to keep him in check while also being active and keeping leading scorer Kyle Singler from getting in a groove because when Singler gets hot it's hard to stop the Devils. Enter Brandon Costner, who will take on the assignment of checking Singler, who by the way, leads Duke in scoring, rebounding and assists. In the past you might cringe at the thought of B-Cost having to check a play maker like Singler, but this is a new year and Sidney's "play hard or don't play at all" ultimatum seems to have struck a nerve in Brandon who put together 36 minutes of high energy, high intensity basketball, as he defended, rebounded, and took charges in the big victory over Georgia Tech.
While he only scored 4 points against G.T., the Pack is looking for Senior Courtney Fells to step up and start to score. No doubt that when Fells is on, the Wolfpack are usually successful, but big games from the Senior have been few and far between since he went down with an ankle injury earlier this season. If Fells is going to have a big game this season, tonight is the night. If he can play within the offense and take good shots he should be able get his scoring groove back as Duke likes to switch on screens, leaving Fells with a great deal of mismatches he should be able to take advantage of.
RECORD
NC State- 10-5 (1-2)
Duke- 16-1 (3-0)
LEADING SCORER
NC State- Brandon Costner (14.6)
Duke- Kyle Singler (16.8)
LEADING REBOUNDER
NC State- Ben McCauley (7.9)
Duke- Kyle Singler ((8.4)
ASSIST LEADER
NC State- Javi Gonzalez (2.9)
Duke- Kyle Singler (3.1)
TEAM FG%
NC State- 46.2%
Duke- 47.1%
TEAM REBOUNDING
NC State- 38.1
Duke- 39.8
TURNOVER PER GAME
NC State- 14.1
Duke- 14.4