Larry Harris is on the road again, this time to Mississippi to visit 2011 prospects Rodney Hood and LaQuinton Ross. Hood and Ross have been targets for sometime now, but with the focus on 2010 we haven't heard much about them. That's about to change, as the staff begins to step up their efforts with the '11 class, a class which has some serious talent.
Hood is a 6'6, 175lbs projected small forward who possesses ball handling skills, a jump shot and good quickness for his size. We had the chance to see Hood on two separate occasions, once at the Boo Williams in Virginia and again at the Bob Gibbons here in the triangle. Rodney averaged 18 points per game as a sophomore at Meridian High School in Meridian, Mississippi. He's a polished and unselfish player that has great skills for his size and a soft lefty jumper. In the AAU circuit, Hood plays on a very stacked squad, MBA Elite, with the likes of LaQuinton Ross, Deville Smith and DeMarco Cox (all three of whom are, or where, NC State targets) Playing with so much talent has somewhat hindered Hood's ability to excel in the summers. Hood is a quiet, well mannered kid that has a very good head on his shoulders. The Pack's interest has been serious every step of the way. The staff had an in-home with him and his family earlier this year that apparently went well. The intangibles are certainly all there and everyone is just waiting for Hood to show the nation what he can really do. Coming into his junior season he looks to do that and you can be sure that Sidney Lowe and company will be watching.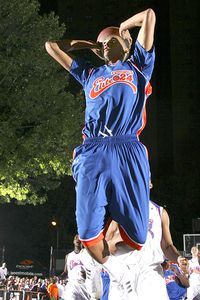 Ross (Jackson, Mississippi) is a stud. He's 6'7, 185lbs and has a dead eye stroke. Some project him to be a small forward because of his size, but watching Ross move, he could surely play the two at an elite level. He's quick, has a great handle and is a prime time scorer that can fill up a stat sheet. We got to see Ross at the Bob Gibbons Tournament this past summer, but an injury hampered his play and he never really got it going. Ross is definitely one to watch this season. He is the #5 ranked small forward according to Scout, and that ranking is probably spot on. Ross has mentioned the Pack on and off when asked about his list of potential schools, but there is certainly some ground to be made up. Early word is that Ross is very high on Syracuse who has recruited him from the start, but you should never count Larry Harris out. We'll keep you updated on the situation as we start taking a closer look at the 2011 targets.